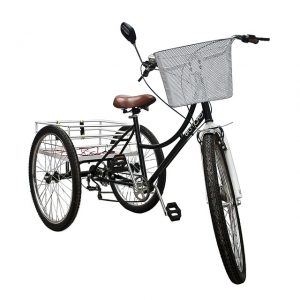 Most people associate tricycles with young kids or children, but do you know that bicycle manufacturers produce tricycles for adults too? These vehicles are commonly known as adult three wheel bikes.
WHO NEED AN ADULT TRICYCLE?
No doubt cycling is one of a popular outdoor exercise of all time, but not everyone knows how to ride a bicycle. There are also people who cope with disabilities or lack of stamina to sit upright on the two-wheel machine for a long period of time. For example like special needs young adults or elderly people. Due to these reasons, grown-up tricycles are one great alternative as a mode of transport for a recreational, competitive and industrial purpose.
TYPE OF ADULT TRICYCLE
Generally, adult sized tricycle could be differentiated into 2 major types: Delta and Tadpole. A delta adult tricycle has 2 wheels in the rear, which is what we normally see on streets. While for tadpole adult tricycle, it has 2 wheels in the front. Tadpole tricycles mostly use for long-distance riding and delta tricycles are more for pleasure riding. There are also electric or motorized tricycles which probably give you a very minimal workout, but great convenience in operating. With the wide variety of adult tricycles, prices are ranging from a few hundred dollars to several thousands of dollars, depends on brand and quality.
BENEFITS OF ADULT TRICYCLE
One of the major benefit riding adult tricycles is that the rider is getting exercise. Unlike going to the gym, riding an adult tricycle allow you to enjoy the sunshine, catch some fresh air and smell the flowers outdoors. While this could help to improve your health, it also makes your life a little bit more fun. Besides, adult tricycles carry additional function too. With its built-in basket or cargo box, you can load it with your picnic basket, books, jacket and other stuff. Some of the adult trikes can even carry loads of up to 450 pounds, which include the weight of the rider.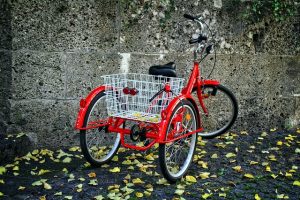 Adult trike bikes offer many special features which are not found on two-wheeled bikes. Some people may think that adult tricycle riders are strictly old people who no longer have the balance or stamina to ride a regular two-wheeled bicycle. This is not necessarily the case. While some elderly people may choose to ride adult tricycles as a way to get exercise and reduce the risk of injury, people from all walks of life and age groups can enjoy riding the 3 wheel bikes. Because adult tricycles are multi-use pieces of sports equipment, old and young alike can enjoy the mobility and freedom that comes along with tricycling.